On Monday I went to see White Lies perform at HMV on Oxford Street. They did a small set, and signed copies of their new album,
Ritual
, which was also released on Monday. For those of you who don't know about White Lies, chances are, if you're in England, you would have heard '
Bigger Than Us
': it is seriously on everywhere.
They released their debut album in 2009, called '
To Lose My Life
' and it is an amazing album. I remember listening to it non-stop and even now, I still like to listen to it on repeat. It's full of some absolute classic songs (
Farewell To The Fairground
and
From The Stars
are my personal favourites) and it's such a pleasure to listen to.
After a 2 year wait, White Lies released their second album and did a launch at HMV, with a set and signing session. As it wasn't a ticket event, it really was first come first serve. I tried to get there as early as I could (2 1/2 hours early), and was near the front, and about 20 minutes before they were due to come on, I looked behind me and the whole store was absolutely packed. There were a good couple of hundred people, if not more, packed into HMV.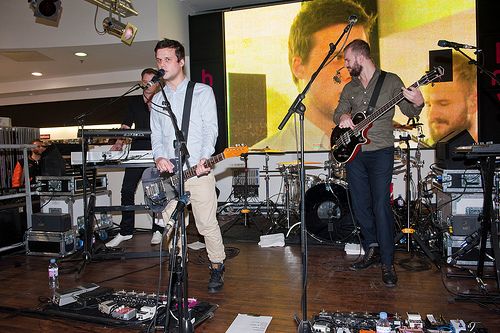 I've heard amazing things about White Lies live and they really lived upto all my expectations. They came on and did a few song from their new album. As the album had only been released that day, it was my first proper hearing of it, and they were pretty incredible. White Lies were really good live: I was seriously impressed. I wish I could describe how amazing they were live, but I don't think words could do the performance justice. They clearly loved every second of being on stage as there were huge smiles when we cheered, and endless 'Thank you so much' after each song. They had a fantastic atmosphere and Harry, the lead singer, had so much emotion in his voice and face. He has such a stand out voice, that you could never get sick of it.
White Lies then went on to play one of their classics from their first album, 'Death' and then the title track from the new album 'Bigger Than Us'. As these were songs that the crowd were more familiar with, it really got everyone going. Everyone was singing along, and you could tell that the band loved every minute of it. They looked like they were having so much fun up on stage, which is something that I love in a band.
After the set, we were all able to get our albums signed. I have to admit that HMV's Security Team did a fantastic job. There were 100's of people there, wanting to get their album signed, and security were calm and friendly. They sorted everyone out really well and it seemed that everyone got their albums signed really quickly.
It was amazing to meet them: they seem like such nice guys, and the signed album is my new prized possession.
I listened to the album non-stop yesterday (and am listening to it as I type) and it's amazing. Every song is so well sung, and it's a really beautiful record. I don't know it as well as I'd like yet, so hopefully a few more back to back listens should give me more opinions on it. There are some really amazing lyrics on the album and some really well played music from Jack, the drummer, and Charles, the bassist.
Anyway, so far, it's a brilliant album. I recommend a listen to this album, and to the first one, if you haven't already. You will not be dissappointed.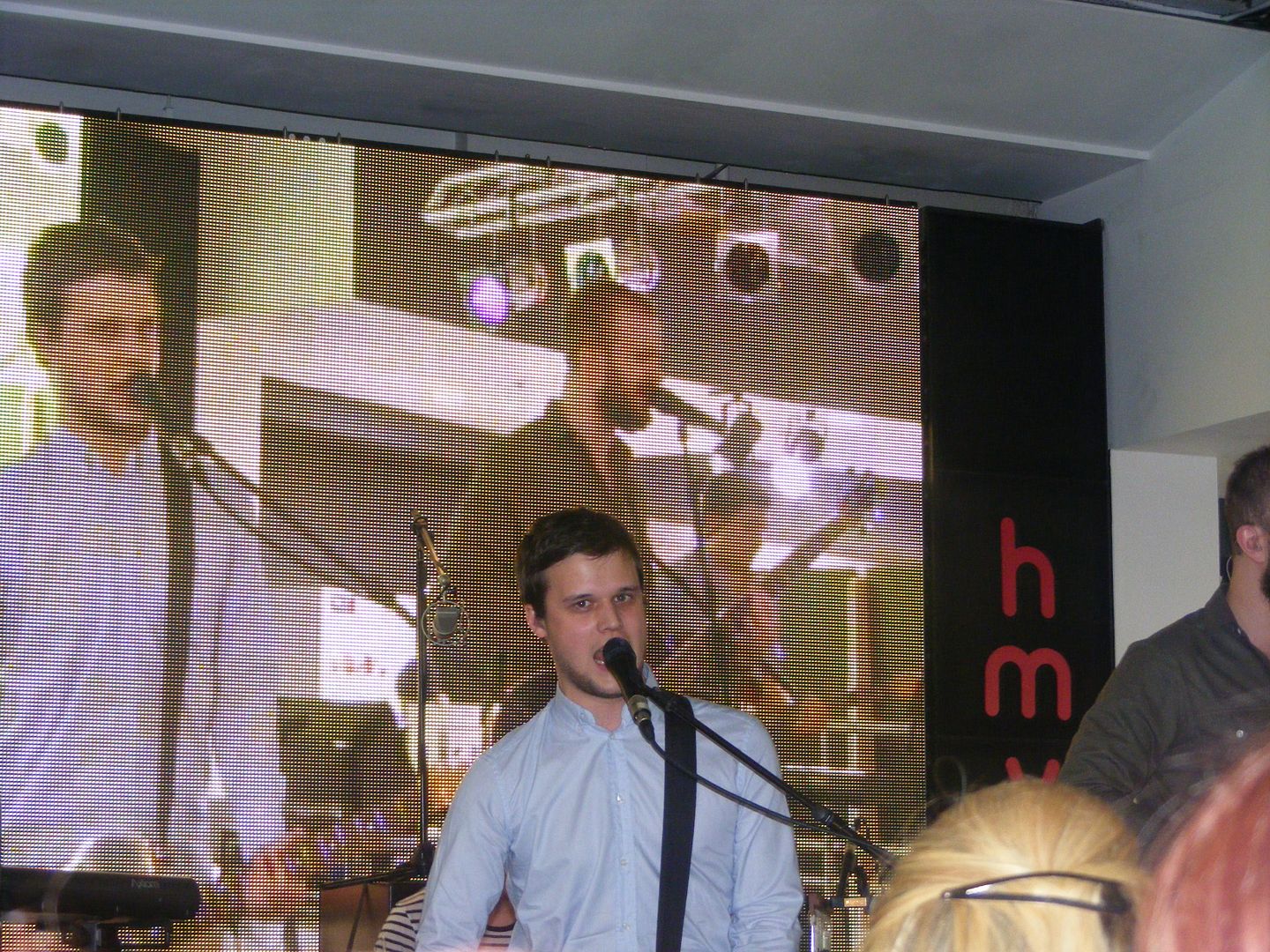 What are all of you listening to?
Sherin xx
P.S. Thanks to HMV for a few of
the pictures
.