Right, have you sorted out your Christmas presents yet?? Here are some last minute ideas if you haven't.
I know I've mentioned
Dauphines of New York
before, but it's defintiely worth a mention as a Christmas present for a loved one. They've just launched their online site, which features a really unique product: an adjustable headband that can also double up as a necklace: How cool is that!?
The products use the finest materials, such as Swarovski materials, amethyst chains, weightless metal chains and woven leather. These products are really versatile and can be worn so many different ways, such as a flapper or hippie style. It's sure to make anyone's Christmas!!
La Senza
are doing perfect little stocking fillers, which would also be perfect for Secret Santa presents.
Lush
are also doing the cutest little Christmas packages. They have
categories
for you to choose from so you can get the most perfect gift for the right person. They have amazing names, such as the Snow Fairy, Secret Santa and Winter Warmer.
Each package
has some really lovelly smelling products and would make a perfect present.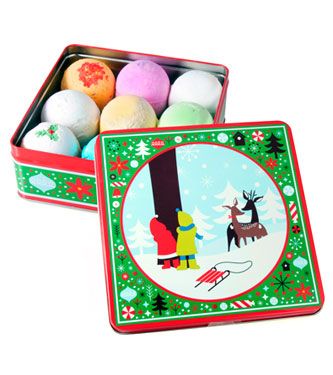 Don't forget to have a look at their
video
, which is filled with more gift ideas.
I've also just discovered
Pilgrims Proverb
, which is an online vintage and secondhand bookstore, started by none other than the ever so amazing and inspirational
Rachel
. There are a few books with really lovely covers at the moment, which will be perfect for any book lover (I have my eye on the 'Gulliver's Travels'). The store is definitely a place worth keeping your eye on, as I predict lots of gems popping up over time.
Share and let me know what last minute gifts you're giving!
Sherin xx
P.S. The winners from my Hotels.com competition were
Florrie
and
Lizzy
. Congrats!! I've emailed you details.