Over the weekend, I was invited to the Aussie Bloggers Christmas Market. I'd seen pictures from the Bloggers Market they held in
Leeds
, so was really excited to get going to this one. The Market was set to be like a Christmas Market, but with one twist: the stalls were held by us Aussie Angels.
I decided to hold a stall and really wanted mine to be different, so after days of wondering what to do, I settled on a 'Basic Boxing Training' stall. I did boxing training for 2 years and learnt a lot about self defence and it was such good excercise, so I thought 'why not share?'
What do you think of my striaght hair? I know mine's really curly, but I do have it straight a lot. I use tons of heat on my hair, whether styling straight or curly, and have recently started using Aussie's Take The Heat Protection Range. Not only do they smell really good, but they do seem like they really protect your hair from the heat.
I was really excited as I had bollards, which, when put together, looked like a mini boxing ring, and that definitley drew people in, as well as looking really cool.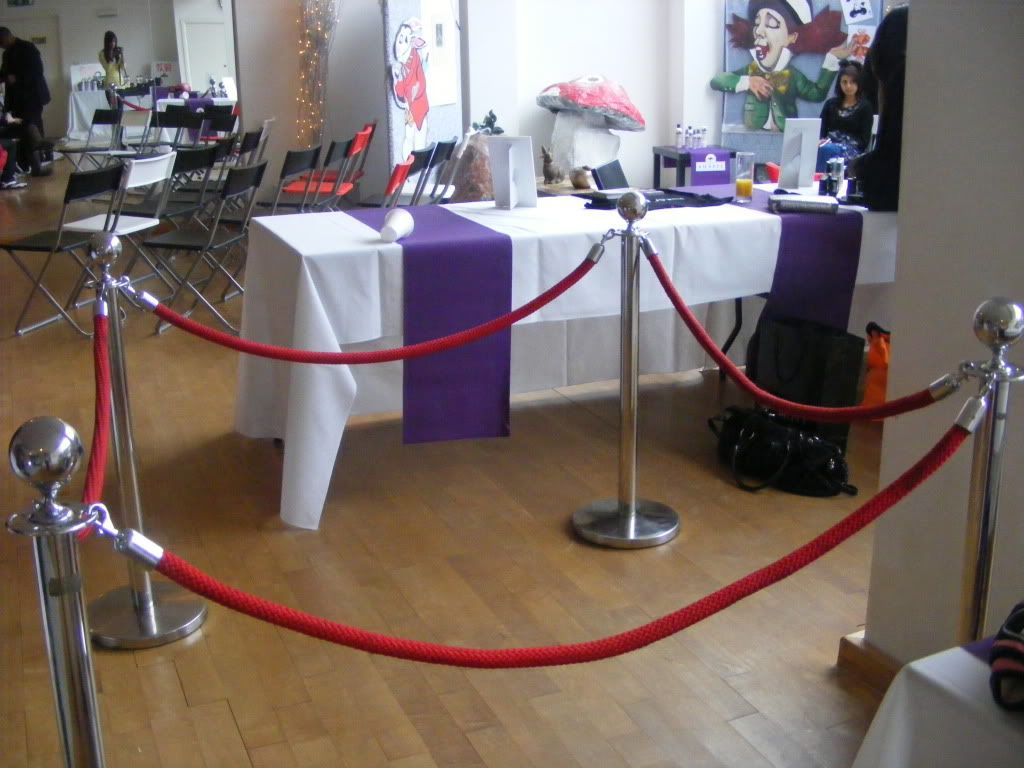 (Above is me teaching one of the style tribes mascots).
It was really fun putting my skills to good use. I had a great time teaching bloggers and their friends how to box, and I hope they had a great time learning from me as well.
I also had a great time checking out all the other stalls. There were cupcake stalls (I think we all know my obsession with cupcakes by now), as well as hairdressers for all hairtypes and the amazing
Amina
doing some pretty great make up.
I also met my tribe mascot! If you look on the left, you'll see that I'm part of the Frizz Miracle Tribe: all Aussie Angels are part of a tribe, depending on our hair type. Each of the tribes were asked to band together and come up with what we'd like our mascot to look like and then Aussie bought our creations to life at the markets. Isn't out one really pretty?
One of my favourite things about this market was the sensory experience. We were blindfolded and then asked to sniff/taste/feel ingredients that are used in Aussie Shampoos. I had a dire attempt, and only got 1 right, but I did have a blast guessing!
Overall , it was a really fun day and I really enjoyed myself. Alongside all the fabulous stalls and food, there were also talks by experts about subjects such as professional blogging, photography and even flirting!
I also absolutely love meeting all my blogger friends. I once again had the chance to meet
Daniela
and
Fiona
, as well as meeting my really good blogger friend,
Dena
, for the first time. I also made some new blogger friends as well. It's so nice to hang out with people who have the same passions as you!
Anyway, a huge Thanks to Aussie, who, yet again, put together a perfect event. There was great food, a lot of fun activities (a photoboot, with props!) and we were also joined by some really hot Aussie Hunks. Phwoar is all I can say! And, the Santa was pretty attractive as well.
Sherin xx
P.S. You can see more pictures on my
Facebook page
.